Flatbed Scanning Your 3D Origami
How to turn your flatbed scanner into a digital camera using an Orville Redenbacher's Popcorn box, Post-It note, scotch tape, 4 sci-fi novels, and a blanket.
Being rather impatient to have my origami box photographed so I could scan it and put it up for people to see, I came across a rather creative alternative. This works really well for origami models, being light weight and fairly forgiving. Post-It notes don't ruin your origami model, either.
Remove lid from flatbed scanner.
Arrange sci-fi novels (good ones only, please!) on your scanner in two stacks so that you can place the popcorn box like a bridge over them.
Cut away one side of the popcorn box.
Fold/bend the post-it note so that it will display the model at the correct angle. Keep in mind that the sticky side of the post-it note is where you are going to stick the origami model.
Tape the post-it note inside the popcorn box.
Stick the origami model to the post-it note.
Hold the popcorn box over your head and look at it to make sure you are going to see your model at the correct angle.
Put the popcorn box on the sci-fi novels. Make sure your origami model doesn't touch the glass, or it will change angles on you.
Carefully drape the blanket over the popcorn box to keep out the light.
Scan the image and edit the picture to remove the sci-fi novels, post-it, and popcorn box.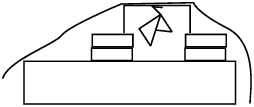 Back to: